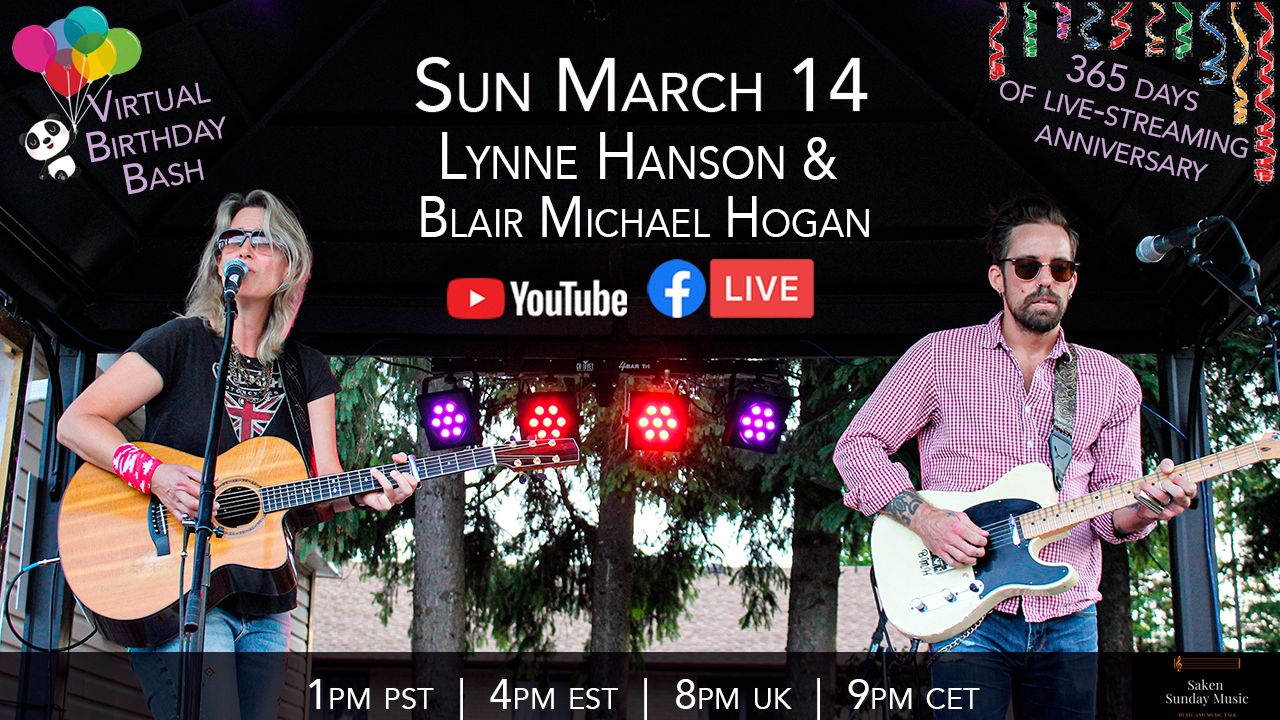 This is free to watch on the pay-what-you-can-plan. If you DO have the means and would like to purchase a "virtual ticket" though you can make a donation via PayPal or e-transfer:  
PayPal link:  https://www.paypal.com/paypalme/lynnehansonmusic  
e-transfer (Canada):  plhanson@gmail.com  
Lynne Hanson w/ Blair Michael Hogan  
Saken Sunday Music Livestream Series  
Sunday March 14  
1pm PST | 4pm EST | 8pm UK | 9pm Central Europe  
WHERE TO TUNE IN:  
Lynne Hanson Musician Facebook Page  
Lynne Hanson YouTube Channel  

March is turning out to be a month of significants for me it seems.  It was exactly one year ago on March 15th that Blair Michael Hogan, MJ Dandeneau, and myself boarded a plan for home, cutting our European album release tour short and landing JUST as Canada shut its borders to the rest of the world.  And The Pause began.   
Last year I celebrated my birthday - which is on St Patrick's day - quarantined in my house.  Instead of birthday cake in Holland and a visit to the zoo to see the Giant Pandas, it was a drive by birthday song and cake left on my doorstep.  Complete with sparklers.  Actually that part was quite awesome. 
Well THIS year to mark the occasion me and Blair Michael Hogan are going to live-stream from my music room!  We've been busy writing up a storm together and we are planning to play a few of these new songs for you.  Yes a WORLD PREMIERE performance of new music and you don't even have to leave your house!!   
This is also the inaugural concert for the brand new Saken Sunday Music series (virtual for now).  The series was created by Ken Duff, who has hosted me and my musical friends on a number of occasions at the Arbour Gallery in VanKleek Hill. 
Mark you calendars. Tune in. Tell your friends. It'll be fun.  And for those of you overseas we here in NA turn our clocks ahead a few weeks earlier than you so you don't even have to stay up late!