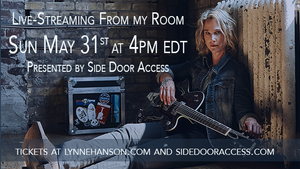 Join award-winning Canadian Americana songwriter Lynne Hanson for a live-stream concert. From her room to yours. 
SUNDAY May 31st @ 4pm EDT (Toronto time) 
tickets $7 CDN register online at: 

SIDE DOOR ACCESS

NOTE: I know the pandemic has had a huge financial impact on a lot of people, so if you aren't in a position to buy a ticket but would still like to tune in to the live stream send me a message at lynne@lynnehanson.com and I will put you on the "guest list."
I've spent the last month and a bit working on new songs, learning a few covers, and figuring out live streaming technology. While we can't gather together in person to share music the Internet does allow us to be "together apart" over huge distances. 
I'm hoping you can join me in my music room from your favourite room (or backyard even) for this live-stream concert. I'm not able to tour my new album, but I WILL playing a few songs from "Just Words" for this concert. 
I'm also taking requests. So feel free to email your favourite song of mine - or a cover song request - and I'll do my best to play it for you on May 31st! 
see you then! 
xoxo
Lynne